Retrieval Philosophy
Dataleaf® retrieval and selection options are rich. Among them are:
Drill down by org chart or any other hierarchy
'Any-field search'
New or changed records
Records with data quality issues (per client-defined Sanity Tests)
Records with present or future metadata issues (per client enterprise data projects)
Fuzzy match (phonetic, transpositional, etc.)
Currently selected data can always be directed to any reporting or output function.
summary statistics
Double-clicking on any field will access the summary-statistics features for that field: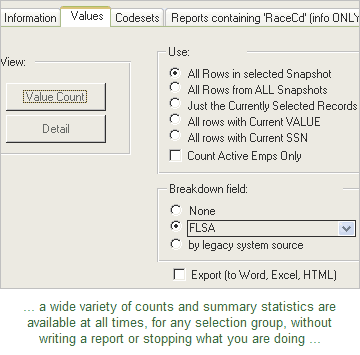 workstation state save
Dataleaf® data marts often have a 'save workstation state' feature. (We realize users do go home from time to time!)
Proprietary data is not stored locally in implementing this feature.