Dataleaf® Archive
Archiving may be required for historical data which is rolled out, or data which is not migrated to a new system, or in cases when organizational change obscures historical information that is needed for legal, strategic, or regulatory reasons.
F-Archive™ vs. S-Archive™
Dataleaf supplies two kinds of data archiving systems. Each is appropriate under some circumstances.
The'F-Archive™' is a table-by-table image of all the legacy data in the legacy system. It is designed for infrequent use, and usually supplied on CD-ROM or data DVD. It is a direct representation of the original data, accessible through standard desktop tools.
Automatic, semantically-appropriate, linking for all table is a part of the archive, so that almost all reporting can be completed without IT assistance. Export to Excel, etc. is supported. Tables and columns are actually indexed by the values they contain, so obsolete data structures can be understood years from now using sample values.
The 'S-Archive™' is something different. It's an easy-to-use snapshot-based system with access to effective-dated components. It is suitable for the direct generation of reports and downloads. There is a standard user interface.
control of historical data
The S-Archive™ offers an easy-to-use date-selection feature, which automatically manipulates snapshotted and effective-dated data components -- both of which appear in most of the S-Archives actually shipped by Dataleaf ...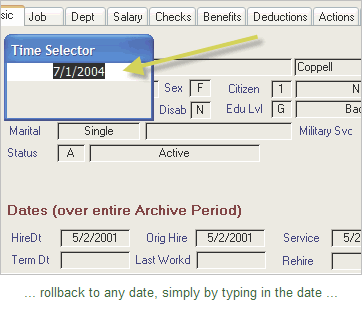 When the 'Time Selector' feature is used, an S-Archive™ handles detail-records appropriately ... even those, like dated paychecks, which may have a shifting relationship to calendar boundaries due to payroll scheduling...
ease of use
No training, and only casual familiarization, is required to use the S-Archive™ ...
Using the standard capabilities of the S-Archive, specific historical time frames may be selected simply by entering a date.
Instant selection on any field is supported, directly through the standard user interface
Additional information, such as code sets, distribution of values, and data provenience, can be accessed directly from the regular data display for in the user interface