Unified Data Mart
Data Unification (for example, unification following an acquisition) is a slow, difficult task at the enterprise level.
But the same task -- when limited to HR and Payroll data -- can be addressed by special methods and a suitable tactical data design. The design and implementation process for such a task is measurable in weeks, not months or years.
Dataleaf offers data unification through of Dataleaf® Data Marts. Dataleaf® Data Marts provide compatibility with ongoing enterprise-level metadata projects, via XML Schemas, multiple element names, provenience tables, and other controls mandated through local metadata standards.
unified viewpoint
Dataleaf data marts provide immediate access, right from the user-interface for all users, to synoptic information about the data and its sources. Historical code sets, and their unified equivalents, are always available for all fields: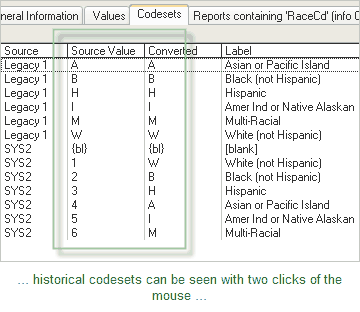 Likewise, even when there are no directly-equivalent fields (as with old and new organizational levels), historical and current information are often displayed side by side...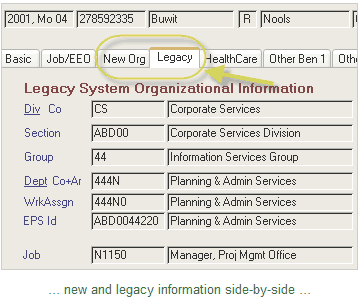 interaction with enterprise-wide programs
Dataleaf data marts are carefully designed to assist, not compromise, ongoing enterprise-wide programs of data unification.