Financial Modeling
In recent years, the meaning of the term 'ROI' has become hazy. Today, an 'ROI' analysis may be quite narrow, recognized no revenue impact and no cost savings except through staff reduction -- or it may recognize revenues which are very contingent and very remote from the organizational loci at which costs are incurred.
Dataleaf has created analytical techniques which -- we believe -- reflect this wider span of analysis but do not sacrifice rigor: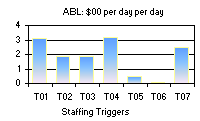 Example 1: Measuring the outflow (loss) of repeat custom as a function of HR and Pay practices. Dataleaf has evolved methods for modeling the relationship between HR and Payroll actions and the loss of repeat custom.

This approach, 'Avertable Business Loss ROI,' can usually be implemented with plain-English comments which are already being solicited when a customer is dissatisfied or when an account is lost. Sometimes as much as 30% of this continuing outflow of business can be traced to issues over which HR has considerable influence. It is also sometimes used to review the consequences of introducing or changing certain automated processes.

Thus the concept 'Avertable Business Loss' refines business-stream-loss into subsets, many of which can be directly linked to training, staffing, and automation policies over which HR has control.
Example 2: Measuring the ROI of a particular feature in a proposed automated system. Dataleaf's 'Component ROI' analysis is an approach devised by Dataleaf Technologies, whereby (given a few rather innocuous simplifying assumptions) individual low-level features in a proposed new automated system can be ranked and assigned dollar returns.
These are two small examples of Dataleaf's approach to financial modeling.