Special-Purpose ROI Modelers
In recent years, the meaning of the term 'ROI' has become hazy. Today, an 'ROI' analysis may be quite narrow, recognized no revenue impact and no cost savings except through staff reduction -- or it may recognize revenues which are very contingent and very remote from the organizational loci at which costs are incurred.
Special ROI Models
Dataleaf has implemented two special ROI models which (we think) are broad but still rigorous.
ABL('Avertable Business Loss') ROI: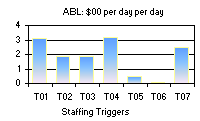 This model, and products implementing it, are used to review the consequences of possible HR policy changes. The concept of 'Avertable Business Loss' refines stream-loss estimates into subsets, many of which can be directly linked to training and staffing policies over which HR has control.
Component ROI:
'Component ROI' is a model devised by Dataleaf Technologies whereby individual low-level features in a proposed new automated system can be ranked and assigned dollar returns.