IHRIS™ Transitional HRIS
Dataleaf® IHRIS transitional systems are used when there is a need to anticipate or facilitate some future change, a need to get from 'Here' to 'There.'
Such a need may arise when:
A system migration has been planned and approved, but will not occur for many months.
A merger or acquisition has taken place, but permanent automated systems do not yet reflect the aggregated organizational structure
In IHRIS™ transitional HRIS systems, essential functionality can be anticipated inexpensively, and new organizational structure realized almost instantly. This provides a basis for unified reporting, analysis, and planning.
IHRIS also functions as a platform for analysis and integrated data cleanup, and an inquiry-and-reporting tool.
Dataleaf's IHRIS™ systems contain core HR and benefits data as well as headcount, job definition, bonus planning, benefits transition, compensation, and similar items. They are based on the Dataleaf® database technology.
Interim systems
Dataleaf 'Interim Systems' are tactically motivated systems which are expected to have a lifetime of twelve to eighteen months.
The rules for designing good interim systems are not the old familiar rules we use for designing 'permanent' automated systems. But there are rules and quality issues.
Dataleaf works diligently to supply interim systems that
meet, and if possible exceed, interim needs
can be defined rapidly, with a relatively small investment of client staff hours
will contain full standard Dataleaf® retrieval and output functionality
will leverage the client's existing plans for future software and databases
Above all, Dataleaf Interim Systems are designed to provide a foundation for the permanent systems which will replace them.
transitional systems
Transitional HRIS systems have special design characteristics, because they are intended to fulfill a transitional role. For example, they sometimes support multiple organizational structures -- often the new and the old...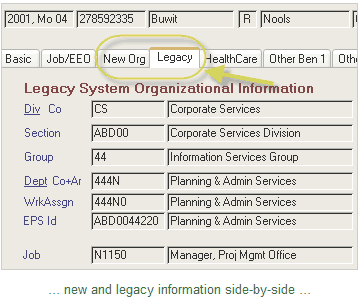 Another desirable feature for a transitional HRIS is the ability to export any subset or selection for further work, with one or two clicks of the mouse ...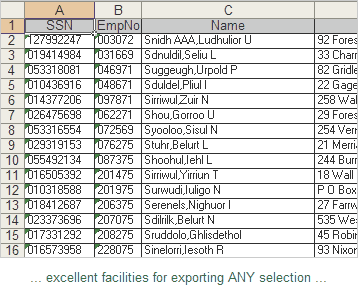 Still another desirable feature is the ability to select changed records in any given time period ...
Please CONTACT DATALEAF for more information about your transitional data needs for HR.